HTC and Qualcomm in Mixed Reality Partnership
HTC and Qualcomm have entered into a partnership that will see the device maker optimize and pre-integrate its Vive Wave technology into Qualcomm's XR standalone designs and its 5G smartphone reference designs. The partnership between the two parties will usher in a new era of rapid deployment of Vive Wave-enabled mobile virtual reality devices towards commercialization.
By leveraging both Qualcomm and HTC technologies, the headset manufacturer hopes to quickly deploy affordable headsets in the market for both virtual reality and augmented reality.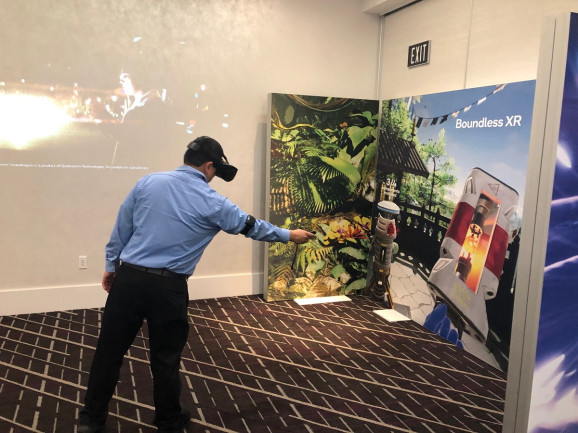 Vive Wave refers to HTC's operating system platform and storefront which has been optimized for virtual reality requirements. The Vive Wave platform was built on Android and provides a native operating system for virtual reality thereby enabling manufacturers to rapidly build new virtual reality and augmented reality headsets that are supported by an extensive content library.
The partnership with Qualcomm opens the mixed reality platform to all kinds of device manufacturers that utilize Qualcomm's Snapdragon chips hence giving them access to a platform capable of powering smartphone-tethered products and standalone headsets. The optimization of this solution will power the entire XR ecosystem and unlock accelerated growth.
It is hoped that the extended reality (XR) headsets including both augmented reality and virtual reality will see a mass adoption or "mainstreaming" when the costs come down. That future when consumers can access inexpensive and high quality headsets is fast approaching as the pace of innovation continues to increase. Many players in this scene are already beginning to release inexpensive headsets that leverage smartphone connections or connections via 60-GHz wireless or 5G to PCs to provide users with superb immersive experiences in their headsets.
The Vive Wave platform is HTC's open platform and tool set that will allow for easy development of mobile VR content and high-performance device optimization for third party partners. The Vive Wave platform will therefire make it possible to create mobile VR content for a big family Vive Wave devices. So far, the platform has been deployed in six headsets including models from Pico, DPVR, Shadown Creator and iQiYi.
The Vive Wave VR SDK provides an open interface for the interoperability between a large number of mobile VR headsets as well as accessories thus assuring of excellent support for mainstream game engines. As a result, players with diverse devices are able to gain access to developers' VR content. On the other hand, Qualcomm is the world's leading chipmaker and manufactures the Snapdragon processors along with wireless chips that support connections to other processing devices.
HTC will now be using Qualcomm's reference designs which are prototype designs that the company's clients can use for the rapid design of products around Qualcomm's latest generation Snapdragon processors. Qualcomm Snapdragon is currently regarded as the fastest mobile processors in the market, combining great power and network connectivity with speed, power efficiency and advanced features. Qualcomm mobile processors are small but incredibly fast and powerful. By using Qualcomm's reference designs, Qualcomm's clients such as HTC will be able to rapidly build and deploy final products into the market.
HTC will be creating an XR solution that smartphone vendors can use to gain access to the Viveport XR app store. The XR headsets will connect to smartphones through a USB Type-C wire thereby allowing for the design of more lightweight headsets.
HTC hopes its collaboration with Qualcomm will build and expand the global XR industry by making it possible to build mobile-based virtual reality headsets in a quick and easy manner. The partnership will also provide innumerable benefits to both developers and device manufacturers and help accelerate the development of new virtual reality headsets globally. The partnership also helps expand the distribution points for content through HTC's Viveport app store for virtual reality customers.
During last week's Game Developers Conference, Qualcomm Technologies had demo'd the "Boundless XR for PC", a new wireless VR headset that doubles up as a wireless VR for PCs, a technology that would in the future enable developers to build lighter and more cost-effective virtual reality and augmented reality headsets. The hardware for this will begin shipping later in the year.
Qualcomm's Boundless XR initiative will combine its Snapdragon 845 processor with a wireless 802.11ad chip thus enabling high-bandwidth 60Ghz connections to compatible consoles or PCs that it can easily communicate with. The result will be a standalone virtual reality headset that doubles up as a wireless method of playing PC games and apps when it's near a PC.
An example of such an implementation is in the Nreal AR headset which is more lightweight because it does not perform the processing but relies on the processing power of a nearby PC or smartphone device. The device connects to a smartphone through a USB-C wire that is also capable of connecting to another processing device like a PC. As a result, the Nreal augmented reality headset is simply a viewer as it derives most of its computing power through a wireless (5G) connection or via a wired (USB-C) connection.
Qualcomm's partnership with HTC is bound to transform the XR ecosystem for the foreseeable future, helping accelerate XR adoption for customers. The partnership will bring Viveport to smartphone manufacturers along with global operators, unleashing the high-speed and low latency potential of 5G networks to deliver the best XR experiences to consumers.
https://virtualrealitytimes.com/2019/03/27/htc-and-qualcomm-in-mixed-reality-partnership/https://virtualrealitytimes.com/wp-content/uploads/2019/03/VR-headset-connected-via-wireless-to-a-PC-600×450.jpeghttps://virtualrealitytimes.com/wp-content/uploads/2019/03/VR-headset-connected-via-wireless-to-a-PC-150×90.jpegSam OchanjiHardwareHTC ViveVR HeadsetsHTC and Qualcomm have entered into a partnership that will see the device maker optimize and pre-integrate its Vive Wave technology into Qualcomm's XR standalone designs and its 5G smartphone reference designs. The partnership between the two parties will usher in a new era of rapid deployment of Vive…Sam OchanjiSam Ochanjisochanji@yahoo.comAdministratorVirtual Reality Times