HTC Vive Focus Plus VR Headset to Cost $799 and Ship Starting April 15
HTC has just announced that its Vive Focus Plus standalone VR headset will be shipping from April 15 for $799. The enterprise-targeted virtual reality headset was revealed during its annual Vive Ecosystem conference which happened in Shenzhen, China.
The Vive Focus Plus is a standalone virtual reality headset that comes built with fully tracked motion controllers and is a sequel to the HTC Vive Focus that was released with more of the same specs but with limited tracking options. In addition, it will have more enhanced optics and new fresnel lenses that have been implemented into the head-mounted display to give users better visual clarity.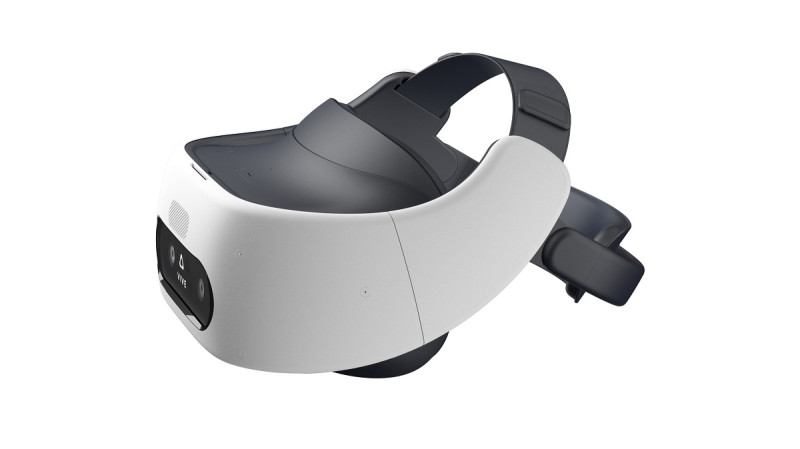 As a self-contained headset that has fully tracked motion controllers, users don't have to tether it to a PC or a smartphone. Based on its design and specs, it's closer to Facebook's upcoming Oculus Quest. However, while the Quest targets the mass-market gaming niche, the HTC Vive Focus Plus is more geared towards the enterprise niche, mostly business clientele but also developers. The device will open for sale on April 15 for $799 across 25 markets around the world and will have support for 19 languages.
The HTC Vive Focus Plus has been in the pipeline for quite some time. Plans for the development of the headset were first revealed in 2017 when the company announced its decision to participate in Google's Daydream platform before later backing out of the deal and effectively it killing off.
At the Vive Ecosystem Conference, HTC will allow visitors to try out 15 apps for its Vive Focus Plus headset, one of which will be a "Paintball VR" game where the Vive Focus headset will be paired with a haptic vest,
Like the original Vive Focus, the Vive Focus Plus is built with Qualcomm's Snapdragon 835 processor. The screen has a resolution of 1440 x 1600 pixels per eye, which offers parity with the upcoming Oculus Quest and other new virtual reality headsets with superb specs. Overall, the headset is still modest. You won't get crazily impressive specs such as in the recently announced high-res HP Reverb.
Both the Vive Focus and Vive Focus Plus have built-in cameras to provide inside-out tracking so users won't have to worry about extensive wires or external cameras. The enhancements in the Vive Focus Plus are sure to steer the virtual reality industry into the next-generation of headsets that will be standalone devices with full-fidelity to provide users with a new scope of VR experience.
An Experience Free of Screen Doors
One of the core enhancements in the Vive Focus Plus are the Fresnel lenses which improve visual clarity by reducing the screen door effect that virtual reality users have had to grapple since the advent of the technology. These are the grid lines that will appear in virtual reality and make the user perceive the experience as if they are looking at it through a screen door, hence the name.
6-Degrees of Freedom
The HTC Vive Focus Plus has 6-degrees of freedom (6DoF) controllers which allow users to enjoy a comfortable experience even when using the headset over extended sessions. This is a feature that was not available in the original Vive Focus headset. The Vive Focus Plus comes with tracked wand controllers enabling users to interact with the VR environment more comfortably.
Multi-mode content sourcing
The Vive Focus Plus also has a new multi-mode capability that will transform the headset into a virtual reality hub for content from multiple sources. The Focus Plus' multi-mode capability is also compatible with an array of platforms and allows users to access content from virtually any source including game consoles, live 360 camera streaming, PC VR, laptops and PCs, 2D video streaming devices, smartphones along with upcoming Cloud VR services on the Vive Focus Plus headset.
Lots of Content
The HTC Vive Focus Plus has been marketed as a device for enterprise customers and developers. However, the company has still gone out of its way to provide extensive support for gaming content. According to the HTC announcement, there are over 250 titles available on Viveport that will run natively on the headset.
Many of these titles leverage the device's 6-DoF capabilities to provide the user with the most comfortable viewing experience. During the VEC2019, the company will showcase 15 different 6-DoF standalone virtual reality applications to visitors. These will include diverse VR content including ones that deploy haptic solutions, multi-player experiences, arena-scale gaming and mixed reality gaming. One of the apps to be showcased is the Paintball VR that connects the Vive Focus Plus headset with a haptic vest. There is also ModalVR which will demo its super large-space tracking system that can allow up to 40 standalone devices to be tracked in real-time over a large surface area.
The company has also revealed a new technological innovation that enables 6-DoF in 360-degree videos. HTC is also planning to release a feature of the Vive Video player capable of converting any standard 360-degree video into a 6-DoF video thereby enabling users to move to within 1m to any direction within an existing video. HTC has not yet divulged how this new system will work but it offers exciting prospects for video consumption.
New Prospects with 5G
HTC demo'd its 5G Hub during the CES 2019 in February and the 5G Hub illustrates the limitless potential for interactive 5G Cloud VR rendering along with 360 video live streaming that could be tapped to connect devices for a powerful VR experience.
There is also the newly released Insta360 EVO, a dual mode folding camera capable of capturing 180-degree and 360-degree content for virtual reality headsets. With Insta360's new partnership with HTC, Vive Focus users or users of any Vive Wave-enabled device can now easily connect their virtual reality headsets with EVO through Wi-Fi or the much the anticipated 5G connection.
The HTC Vive Focus Plus will be released mid next month in most markets with an enterprise license. For the subscribers, there will be access to close to 250 Vive Wave applications which can run natively on the Vive Focus Plus.
https://virtualrealitytimes.com/2019/03/26/htc-vive-focus-plus-vr-headset-to-cost-799-and-ship-starting-april-15/https://virtualrealitytimes.com/wp-content/uploads/2019/03/HTC-Vive-Focus-Plus.jpghttps://virtualrealitytimes.com/wp-content/uploads/2019/03/HTC-Vive-Focus-Plus-150×90.jpgSam OchanjiHardwareHTC Vive Focus PlusVR HeadsetsHTC has just announced that its Vive Focus Plus standalone VR headset will be shipping from April 15 for $799. The enterprise-targeted virtual reality headset was revealed during its annual Vive Ecosystem conference which happened in Shenzhen, China. The Vive Focus Plus is a standalone virtual reality headset that comes…Sam OchanjiSam Ochanjisochanji@yahoo.comAdministratorVirtual Reality Times