Korean Low Cost Carrier Trials In-Flight Virtual Reality Entertainment
More airlines are hoping into inflight virtual reality entertainment with the latest entrant in the market being South Korea's low cost carrier Jin Air. The LCC has partnered with the leading inflight entertainment (IFE) virtual reality company InflightVR to offer onboard virtual reality entertainment tot its passengers.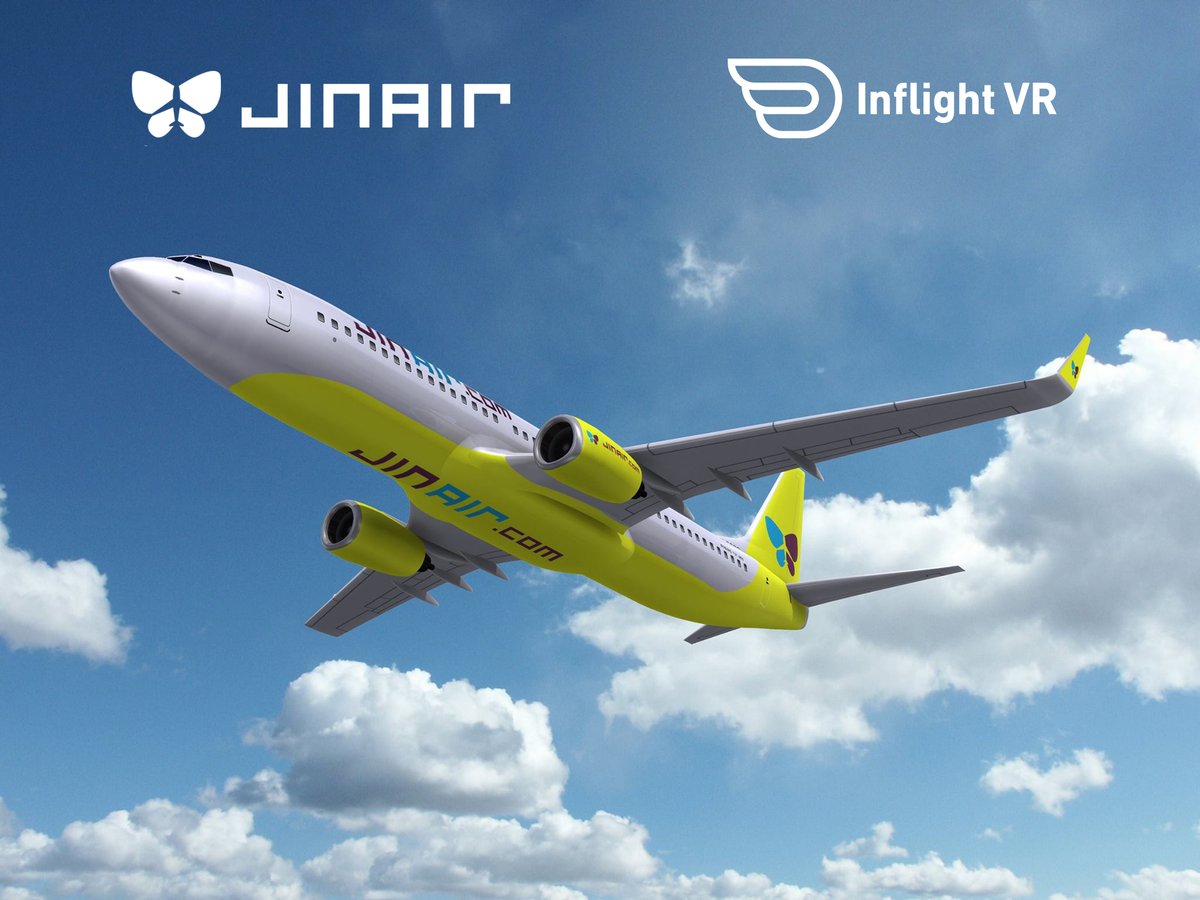 The airline will be trialing 10 virtual reality devices on the daily flights in some of its routes including between Seoul and Da Nang in Vietnam. The purpose of this initial rollout is to gain more passenger insight on the user preferences as well as on the appropriate rental price that the passengers would be comfortable with before it decides to deploy the VR IFE in the entire fleet.
Jin Air hopes its in-flight virtual reality entertainment offer will appeal to its younger and tech-savvy passengers. Virtual reality is currently one of the fastest growing emerging technologies in the market currently. Increasingly, airline passengers are also getting younger by the day and more tech savvy and these younger travelers are looking for more than just the traditional IFE. Offerings such as virtual reality entertainment will highly to appeal to them. Jin Air hopes that its collaboration with InflightVR and the well-developed virtual reality product will appeal to its tech-savvy customers increasing demand for high quality inflight entertainment. By being one of the first LCCs in Asia to roll out VR IFE, Jin Air is also hoping to raise the profile of its brand among the traveling public.
According to InflightVR, the virtual IFE system addresses all the logistic, usability, technical as well as the rights management aspects of IFE deployment thereby making this process very seamless for airlines and bringing the VR innovation to the travelling public. The roll out of onboard virtual reality demands a very high level of technological integration and application that involves interfacing the VR IFE system with the cabin crew management system for the safety procedures and connectivity platforms. It must also involve various concerns that may negatively impact the user experience and protecting the content by addressing the rights management concerns. It is a very delicate and sophisticated process.
With new virtual reality integration, Jin Air passengers will be able to explore various destinations in VR, relax virtually via guided meditation and even watch movies in their own virtual reality theater. Users can even use the VR IFE's system to give themselves a virtual upgrade into the business class, a timely escape for passengers used to the skeletal offering of the low cost carriers.
InflightVR is increasingly signing up more big names onto its in-flight product. In the recent past, it has signed up FlixBus, Small Planet Airlines, Iberia and Sun Express among others. The virtual reality startup is keen on getting its product to the eyeballs of more travelers in the travel offerings of more airlines. As airlines seek more innovative a la carte services that will drive up their revenues, you can expect additional airlines to sign up for inflight VR and offer this as a premium onboard product to their customers. In this endeavor, InflightVR also has to contend with another fast growing player in this space, the French-American company SkyLights which has already rolled out its in-flight virtual reality product on airlines such as Alaska Airlines, XL Airways, Joon and Corsair.
https://virtualrealitytimes.com/2019/04/17/korean-low-cost-carrier-trials-onboard-virtual-reality-entertainment/https://virtualrealitytimes.com/wp-content/uploads/2019/04/Jin-Air-600×247.jpghttps://virtualrealitytimes.com/wp-content/uploads/2019/04/Jin-Air-150×90.jpgSam OchanjiVirtual TravelMore airlines are hoping into inflight virtual reality entertainment with the latest entrant in the market being South Korea's low cost carrier Jin Air. The LCC has partnered with the leading inflight entertainment (IFE) virtual reality company InflightVR to offer onboard virtual reality entertainment tot its passengers. The airline will…Sam OchanjiSam Ochanjisochanji@yahoo.comAdministratorVirtual Reality Times